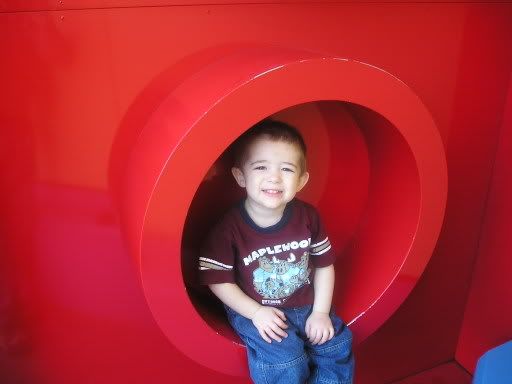 This cute little thing said, "Mommy, listen to my ABCs song." Usually his version is "T U V, now sing with me!". But tonight at dinner he sang the entire song from "A" to "sing with me". WTHeck? My little man is a character -- he's 2 yrs old and peppers his conversations with "Argh, me hardies," he loves "spicy t'ings" and is constantly asking to watch "scary mans TV shows" -- not sure what that is.
On another note, this
Fiskars journal thing
is hard, lol. Me, the queen of perfectionism, is amazed at what the creative women do in these journals. I'm feeling slightly intimidated.
Em is auditioning for the school talent show tomorrow. She signed up, but changed her mind and didn't want to do it, but she suddenly changed her mind again yesterday and is now doing it. She's doing her Dance Showteam Finale from Hairspray - here's a link -
You Can't Stop the Beat -the finale.
. The talent show is next week, I'm going to film it and see if I can put it on here. For only being 7 yrs old, she is amazing, by Feb she will have about 8 to 10 dances to perform for competitions. As her twirling teacher says, "she has a fan kick that most 16 yr olds would die for."