This is some of my inspiration lately of things I plan to do or create, maybe it will inspire you too.
I love these little bottles. I made the picture too small, but they are ephemera with B&W vintage pics with funky hats and wings, etc. This would look so neat on the window sill above my kitchen sink. I think I might have to do something like this. I really want to put my art to use in my own house and not give it away all the time, and I think this would be a fun project to create just for me.
I'm going to design Em a twirling costume similar to this. She wants the tummy nude thing, but I'm not so sure we're gonna do that. It will be hot pink and purple I think. I already have most of the beading and that icicle trim (which I found an eBayer in Hong Kong with glass icicle trim super cheap if anybody is interested). Now I just need to find some silver liquid sequin that doesn't cost an arm and a leg for appliques.
And here's the back:
I need to get started so it will be ready by February. But first I need to get jumbo spandex. I'm hoping I don't have to order it from NYC and can get it at my fabric outlet with the giant room o'spandex.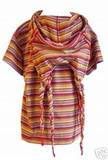 This little Euro style hoodie, I am going to sit down this weekend and draft one for my son.
I love the
Art Girlz
. Their stuff inspires me to create altered "things". And they have a really cool
blog
.
I love this snow queen.
And these witches, I'm going to have to order a witch kit.
And I found this little thing in their gallery. I just love this little bottlecap necklace. I think I'm going to need to order some charms to make this--too cute!!
Anyway, just thought I'd share.