I just love making this bag! I can run to my stash pick up a few prints and it takes almost nothing to sew, just 9 fat quarters, and I can stack, whack, and start sewing in minutes and it's done in about an hour. And I can make it any size from big to small just by increasing or decreasing the size of the squares. But most of all I love that it's....REVERSIBLE!! I have several myself, I use them for going to the library, stuffed with towels and sunscreen for the sprayground (if you do not know what a sprayground is, it's like a water park wrapped up in a little playground, they are building them everywhere), and packed full for kid night at grandma's house.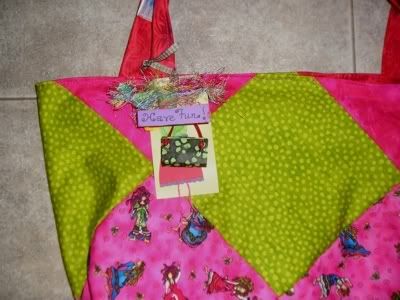 So Em's teacher left in December to have a baby and we got a new teacher and I had not had the opportunity to sew for her yet, so it was Teacher Appreciation last week and I sent Em to school with this funky reversible bag. The colors kinda look yucky in the pictures, but they aren't "neon" as the pictures show. I added some ribbon wrapped yummy soaps from
Tami's Soap
. Her soap is my absolute favorite. A little known secret is when she has leftover odd size bars you can buy by the pound, I buy up a few pounds and keep them tucked away for gifts because you get all kinds of different scents.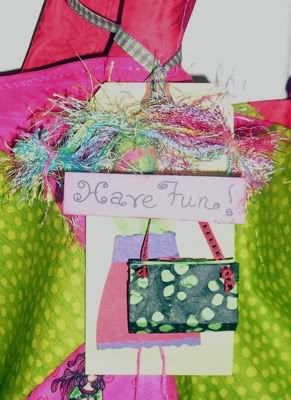 And...I put one of my cool tags on it too, lol. I love adding these little hang tags and making them too, since it's an art project all into itself. Here's a close up since I think they're so cool, lol. This one is a funky chick with rainbow pigtails and a rainbow felt bead head and a little tote bag on her arm. I thought I had made a tutorial for these hang tags....but the pictures came out terrible (I am in dire need of a new camera), so I'm going to reshoot another one with better pics and put it up this week. These are fun for you to make with your kids too.