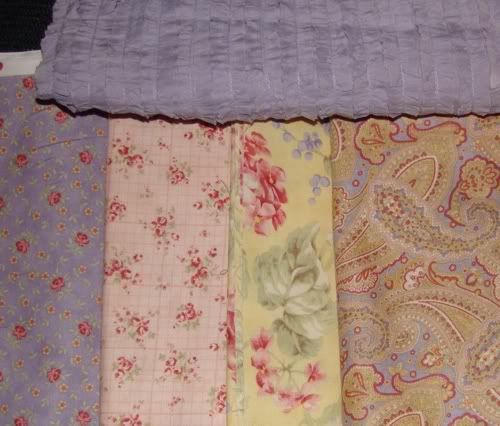 So my sassy skirt is due on Friday for the Sassy Skirt contest - eek, I haven't even started yet! I've been so busy with my work, I haven't been able to work on it at all. But I'm not worried, it'll take a few hours at most. These are my fabrics for the skirt, plus a top, it will be for Em. They are from Sanctuary by 3 Sisters for Moda. They are gorgeous, my favorite is the paisley, I just love the colors. I just love Moda prints.
So it's nearly 3 AM and I haven't had a chance to hop on the elliptical today, so I'm gonna exercise and then work on my sassy skirt for a little while. I am a diehard nightowl. Sassy Skirts, part 3 will be coming soon with the completed skirt, stay tuned.
And to completely change the subject, do you ever get a song stuck in your head? Em and I were looking for good lyrical songs for her to dance to this coming year and I came across this beautiful song, Rock Your Soul by
Elisa
. I had never heard of her or this song, but it is now permanently stuck in my head. I just love it. You know those songs that you can listen to over and over, it just gives me goosebumps.