I live quite a ways away from the quilting store where they had the contest, so my mom went and got my prize and took a picture for me. I think they keep them up until the middle of the month, sheesh, I can't remember, lol.
So here's my skirt - the one on the top right, it's for my daughter: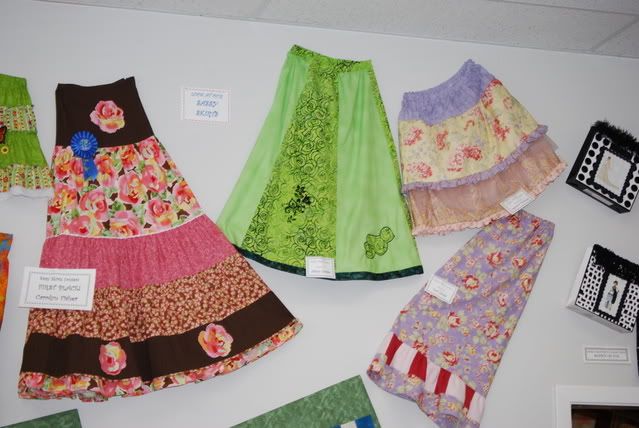 I was so busy with work, I just kept putting it off and putting it off. I literally made this at 1 o'clock in the morning the night before and made it up as I went. I was going for a little bit of shabby chic. It's a triple layer skirt. The middle layer is a quadruple layer of tulle - heck, I could call it the 7-layer skirt, lol.
Honestly, I don't really like how it came out, I wished I had flip flopped the fabrics, but oh well. I got honorable mention, lol.
I do, however, really like the skirt design I came up...sorta twirly, skirt sorta boutique. I'm thinking about turning it into an actual pattern.
And after looking at the picture for awhile, can I just say what the heck is up with the skirt under mine, the red/white stripe thing just makes it look yucky.
P.S. I feel terrible, I am working on the nursing tutorial. It will be up at some point, hopefully soon. I have to do it in little spurts since the house is for sale. Somebody cast a spell to sell my house, pretty please with sugar on it? I'm desperate, the gas bill to school is killing me, lol.
P.P.S. The little tag tutorial will be coming soon too. I have somethings to catch up on, but I will post it soon.